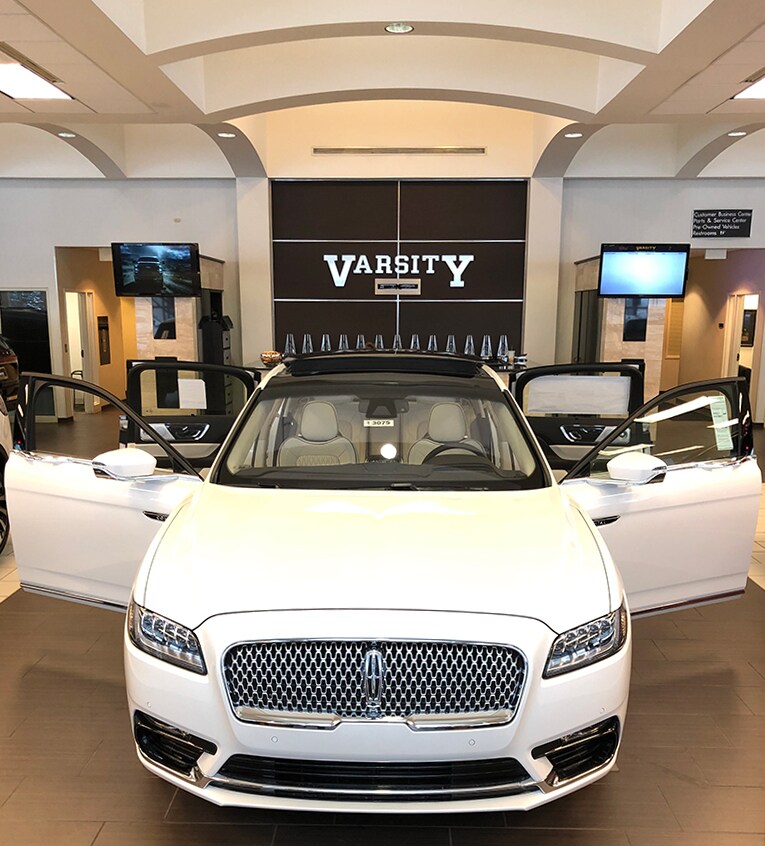 Varsity Lincoln Team Members are selected to be part of our team based upon their demonstration of an unwavering attitude of the importance of Customer Care and Satisfaction. The attitude of our team is the cornerstone for the extensive training we provide to all our team members. Pairing knowledge and skills with that unrelenting attitude of customer care and satisfaction results in your Varsity Lincoln Luxury Experience. Those values have earned us the honor of being the #1 volume Lincoln Dealer in the world since 1997.* Proudly, Varsity Lincoln is one of a select few Lincoln Black Label Dealers, providing our customers with unique service and membership privileges.
Come visit our beautiful showroom, indoor delivery area and service reception aisle. Our facilities sleek look showcases the "New" Lincoln Motor Company's cutting edge designs. Also, visit our other Varsity location at 3480 Jackson Road, Ann Arbor, MI 48103.
Our employees play the most important part of customer satisfaction. You will be warmly greeted at our reception desk. Customer satisfaction begins with our team members and their positive reflection of Varsity Lincoln. Our team strives to give each customer a luxury experience whether they are getting an oil change or buying a new vehicle.
In 2020, Varsity Lincoln celebrated our 24th year in a row as the #1 volume Lincoln dealer and also achieved recognition with these prestigious awards: President's Award, Partners in Quality, and the Triple Crown Award. Varsity Lincoln is also the nation's #1 volume Certified PreOwned Lincoln Dealer.
The Varsity Lincoln Collision Center has been selected five years in as the Best of Wixom Awards for Auto Body Shop and now qualifies for the Wixom Business Hall of Fame.
Why is Varsity Lincoln the Go-To Spot for Ann Arbor, Farmington and West Bloomfield, MI, Drivers Seeking a New or Pre-Owned Lincoln Vehicle?
It could be our varied and accommodating selection of new Lincoln models, including the much-loved Lincoln MKZ, Lincoln Nautilus, Continental and Lincoln Navigator. Perhaps it's our equally vast range of high-quality, Varsity Lincoln-approved pre-owned cars.
It may also very well be the Lincoln financing offers available to customers who shop with Varsity Lincoln. With these auto loan and car lease options, shoppers feel at ease, worry-free, and extra satisfied with their purchase.
Varsity Lincoln isn't only a place for those in the market for a new Lincoln car. We're also the go-to spot for those already behind the wheel. Customers find our car service and maintenance center, also located in Novi, Michigan, both convenient and competent.
It doesn't stop there-- Varsity Lincoln also host an array of services to personalize or enhance your Lincoln driving experience. Just ask our onsite auto parts and accessories department what we mean.
Still not clear about why so many trust Varsity Lincoln for all of their Lincoln needs? Visit our dealership at 49251 Grand River Ave Novi, MI and find out for yourself!