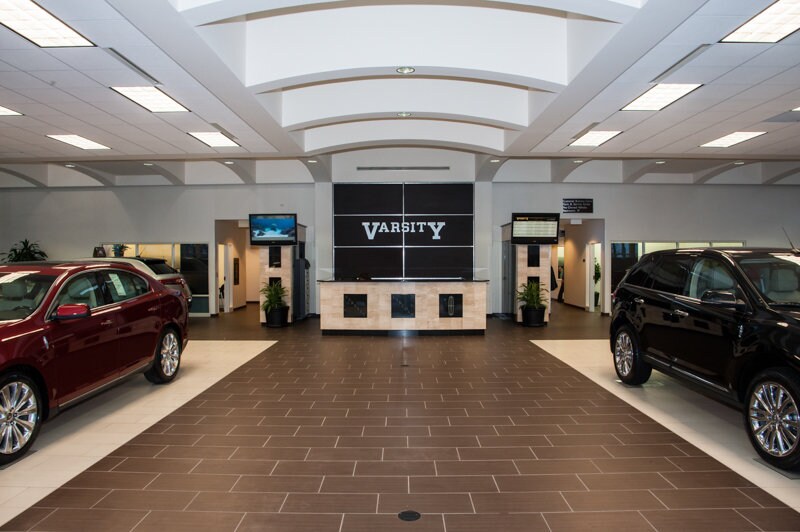 Varsity Lincoln Team Members are selected to be part of our team based upon their demonstration of an unwavering attitude of the importance of Customer Care and Satisfaction. The attitude of our team is the cornerstone for the extensive training we provide to all our team members. Pairing knowledge and skills with that unrelenting attitude of customer care and satisfaction results in your Varsity Lincoln Luxury Experience. Those values have earned us the honor of being the #1 volume Lincoln Dealer in the world since 1997.* Proudly, Varsity Lincoln is one of a select few Lincoln Black Label Dealers, providing our customers with unique service and membership privileges.
Come visit our beautiful showroom, indoor delivery area and service reception aisle. Our facilities sleek look showcases the "New" Lincoln Motor Company's cutting edge designs. Also, visit our other Varsity location at 3480 Jackson Road, Ann Arbor, MI 48103.
Our employees play the most important part of customer satisfaction. You will be warmly greeted at our reception desk. Customer satisfaction begins with our team members and their positive reflection of Varsity Lincoln. Our team strives to give each customer a luxury experience whether they are getting an oil change or buying a new vehicle.
In 2016, Varsity Lincoln achieved recognition with 7 prestigious awards: Triple Crown Award, Lincoln Leaders of Excellence, President's Award, ONE Ford Elite, CPO Sales Leadership, Premier Club, and Partners in Quality.
The Varsity Lincoln Collison Center has been selected five years in a row for the 2017 Best of Wixom Awards for Auto Body Shop and now qualifies for the Wixom Business Hall of Fame.